Member's Poems and Prose
The below writings are works written by DB-Fishbowl members.  Another page, submitted by DB-Fishbowl members, includes works submitted by DB-Fishbowl members but written by others.
Ah! The Joys…
By:  Darlene Laibl-Crowe
 
Ah! The joys of blindness
with the 'un'sighted people around me
Tell myself to use kindness
Tell myself to let it be.
 
Watch out for the cat!
It's right there next to you.
Don't sit on that!
Can't you hear the mew?
 
Ah…the joys of deafness,
that leads to comprehension issues.
Remind myself of patience and goodness
They can't see the clues.
 
Where are you?
I'm over here.
Let's try that again, where are you?
He has no sense of direction, the poor dear!
 
Ah!  The joys of deafblindness,
The double whammy of disconnection
Traveling through a wilderness
Echoes resounding with distorted vision.
 
Lord, help me through this invisibility,
No matter how hard I swing;
I seem to lose connectivity!
* * *
Mike's Response to Ah! The Joys...
By Mike Jansen
 
Ah I know how you feel dear.
Off to smoking a good cigar and a nice beer.
* * *
Can you Hear Me?
By:  Darlene Laibl-Crowe
[Note: This poem was written while I was at Helen Keller National Center for eight months in 2011.  I have a video where I signed it for my ASL class in 2012.  Also that same year, the Blind Matters Radio Show did a remote radio broadcast from an event that the Florida Deaf Blind Association was hosting in the Orlando area.  I was a guest and I shared my poem on the broadcast.  It was posted on their website and broadcasted worldwide.
J  Darlene & Jayden, the Regal Duchess]
 
Fighting back tears, clenching my fists;
Forcing my feet onward; persevering.
Struggling with my fears, squinting through the mists.
Putting out my hands, touching and gesturing.
 
Can you hear me?
Is your sound distorted, too?
Can you see me?
Is your vision cloudy, too?
 
Talk to me, share with me;
What is the world like?  Help me understand.
Show me how to assimilate, and arm me
With tools to make decisions and take a stand.
 
Don't make them for me, give me that choice;
Don't make it a battle, I can comprehend.
I will not hide and wait, I have a voice;
I can contemplate, and use reasoning.
 
Can you hear me?
Is your sound distorted, too?
Can you see me?
Is your vision cloudy, too?
 
Work, learn with me; integrate into this world
What it will take to help us to communicate.
* * *
Ever So
Prose by Adrienne Haugen
 
I miss the precious gens in the night sky
Ever so, the graciousness of God's creation.
I miss the beauty of the Northern Lights so high
Ever so, the glory of God's procreation.
 * * *
I Miss…
By:  Darlene Laibl-Crowe
 
I miss the sunrise.
I miss the green of the grass.
I miss your look of surprise.
And the beauty of my little lass.
 
I miss the power of smiles.
I miss looking into your lovely eyes.
I miss the teasing glint of your wiles.
And gazing into the heavenly skies.
 
I miss my reflection in the mirror.
I miss the adoration on my love's face.
I miss a storm in its furor
And the beauty of a flower and its grace.
 
I miss the goofiness of a clown.
I miss the blueness of the sky.
I miss a disgruntled frown
And the clouds floating by.
 
I miss the acknowledgement of a friend.
I miss the sparkle of a diamond.
I miss the sunset's colorful blend
Of reds, golds, purples, blues, and beyond.
 
Oh!  The list can go on and on,
Someone turn the light back on!
* * *
Just a Little While
By: Darlene Laibl-Crowe
In Memory of Lois Godwin Harris
August 19, 1936 – April 8, 2005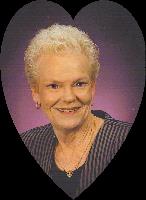 In 2000, Mom experienced her greatest fear
The loss of a child, so precious and dear
Through much pain, she tried to believe
And with many tears, not to grieve.
 
Life must go on; she was told,
Look to Heaven and smile
Believe you will be together in just a little while.
 
Loss became prevalent with each passing day
Unknowingly, disease had began to prey.
Upon a body that was once so strong and swift
In each arm, a precious grandchild she could lift.
 
Life goes on, we were told
Look to Heaven and smile
Believe it will be for just a little while.
 
The essence of time is so precious and clear
We must hold the ones we love so near
We knew that decisions had to be made
They were definitely not going to go away!
 
Life goes on, we reminded each other,
Look to Heaven and smile
Remember it's for just a little while.
 
A year seems as though it is long
But, oh, we are so very wrong!
A year is not enough to say and do
All you want to keep the one you love close and true.
 
Life goes on, we are told,
Look to Heaven and smile
It is just for a little while.
 
'Mama, open your eyes', we would say
We have come to see you today.
We all love you so very much
Oh, Mama, we miss your loving touch!
 
Life goes on, no matter what,
Look to Heaven and smile
Remind yourself it is just for a little while.
 
This year has given us time to pause and reflect
Just how much we missed and its effect
Upon our lives, we will never forget
The harsh reality of the pain life will inflict.
 
Life must go on, a painful reminder is clear
But . . .  look to Heaven and smile
It is just for a little while.
 
A mother's love my sisters and I did enjoy
But today Mama is dancing with excitement and joy
As she puts her arms around David, our beloved brother
An amazing reunion for a grieving mother!
 
Yes, life goes on, we can tell you,
Be of courage because we believe we can look to Heaven with a smile
And KNOW, we will be there with them in just a little while!
* * *